Jet Fuel Control (JFC) Tester
Will simulate the planes computer system by performing Closed Loop control of the JFC in Manual or Automatic Mode of operation while performing Frequency Response testing and meeting all CMM requirements.
Rear Panel
The tester's real panel uses individually labeled, gold-contact MIL SPEC connectors for each EMID hookup. A pressure relief valve is mounted on the top.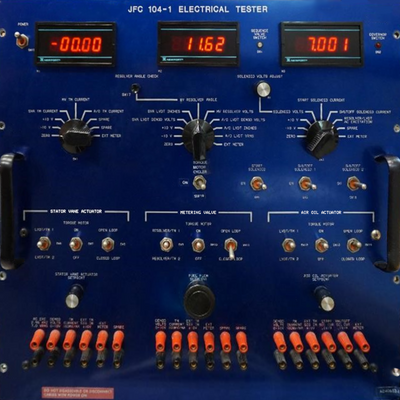 Manual JFC Tester - No Computer
Manual front panel operation using ON/OFF and selector switches.
Panel meters showing voltage and current levels of EMIDS.
Amphenol style connectors on rear panel for connection to UUT.
DCV proportional signals also provided on rear panel connectors, if an external data system requires logging .
Vortex builds and repairs this style of tester.
LabVIEW Instruments
Using NI LabVIEW software, the Jet Fuel Control Tester can perform any test our customer requires. Logging of data and custom reports are available.